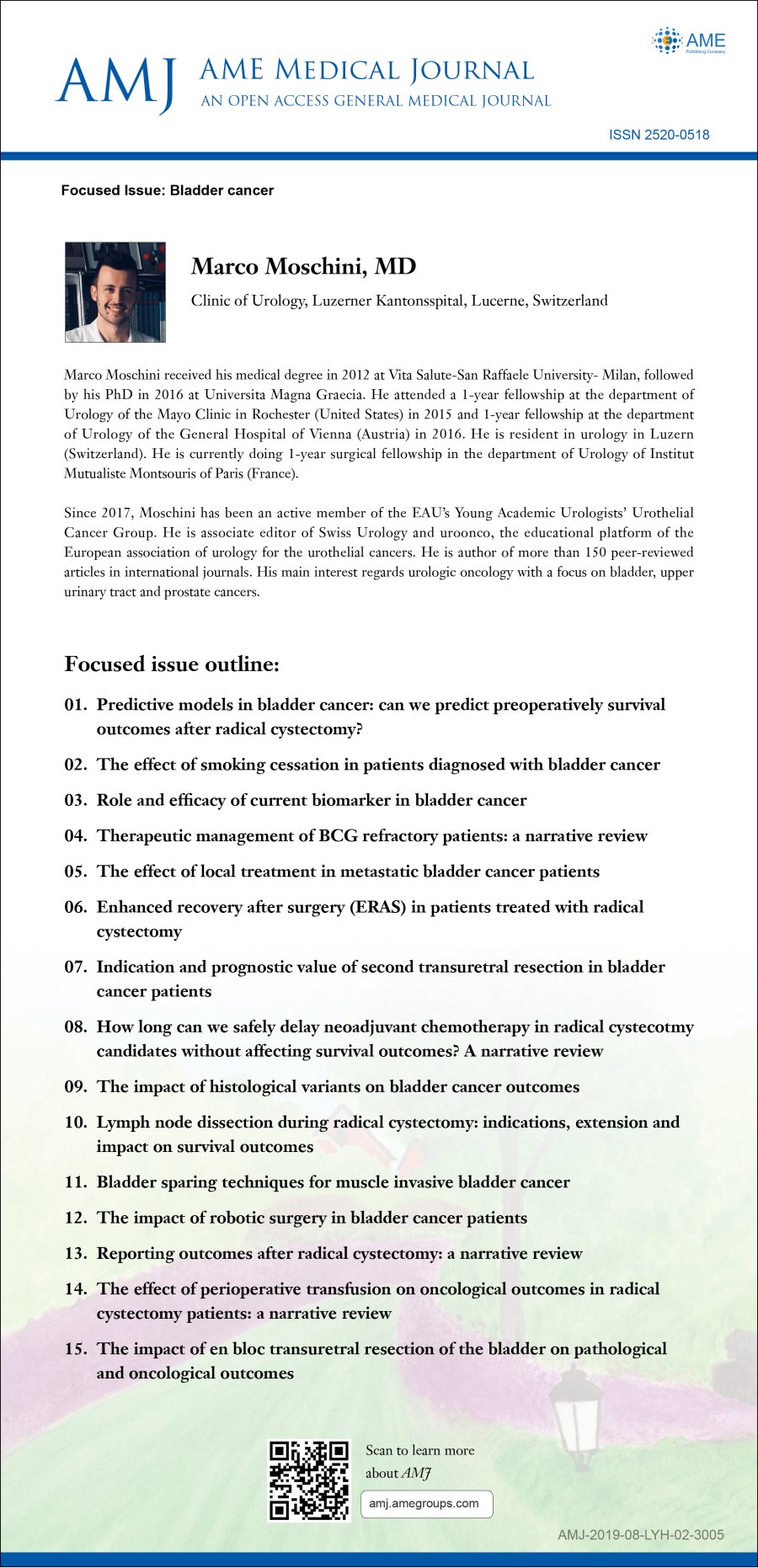 This focused issue on "Bladder cancer" is edited by Dr. Marco Moschini, Clinic of Urology, Luzerner Kantonsspital, Lucerne, Switzerland.
Dr. Marco Moschini received his medical degree in 2012 at Vita Salute-San Raffaele University- Milan, followed by his PhD in 2016 at Universita Magna Graecia. He attended a 1-year fellowship at the department of Urology of the Mayo Clinic in Rochester (United States) in 2015 and 1-year fellowship at the department of Urology of the General Hospital of Vienna (Austria) in 2016. He is resident in urology in Luzern (Switzerland). He is currently doing 1-year surgical fellowship in the department of Urology of Institut Mutualiste Montsouris of Paris (France).
Since 2017, Moschini has been an active member of the EAU's Young Academic Urologists' Urothelial Cancer Group. He is associate editor of Swiss Urology and uroonco, the educational platform of the European association of urology for the urothelial cancers. He is author of more than 150 peer-reviewed articles in international journals. His main interest regards urologic oncology with a focus on bladder, upper urinary tract and prostate cancers.
Focused issue outline:
Predictive models in bladder cancer: can we predict preoperatively survival outcomes after radical cystectomy?
The effect of smoking cessation in patients diagnosed with bladder cancer
Role and efficacy of current biomarker in bladder cancer
Therapeutic management of BCG refractory patients: a narrative review
The effect of local treatment in metastatic bladder cancer patients
Enhanced recovery after surgery (ERAS) in patients treated with radical cystectomy
Indication and prognostic value of second transuretral resection in bladder cancer patients
How long can we safely delay neoadjuvant chemotherapy in radical cystecotmy candidates without affecting survival outcomes? A narrative review
The impact of histological variants on bladder cancer outcomes
Lymph node dissection during radical cystectomy: indications, extension and impact on survival outcomes
Bladder sparing techniques for muscle invasive bladder cancer
The impact of robotic surgery in bladder cancer patients
Reporting outcomes after radical cystectomy: a narrative review
The effect of perioperative transfusion on oncological outcomes in radical cystectomy patients: a narrative review
The impact of en bloc transuretral resection of the bladder on pathological and oncological outcomes