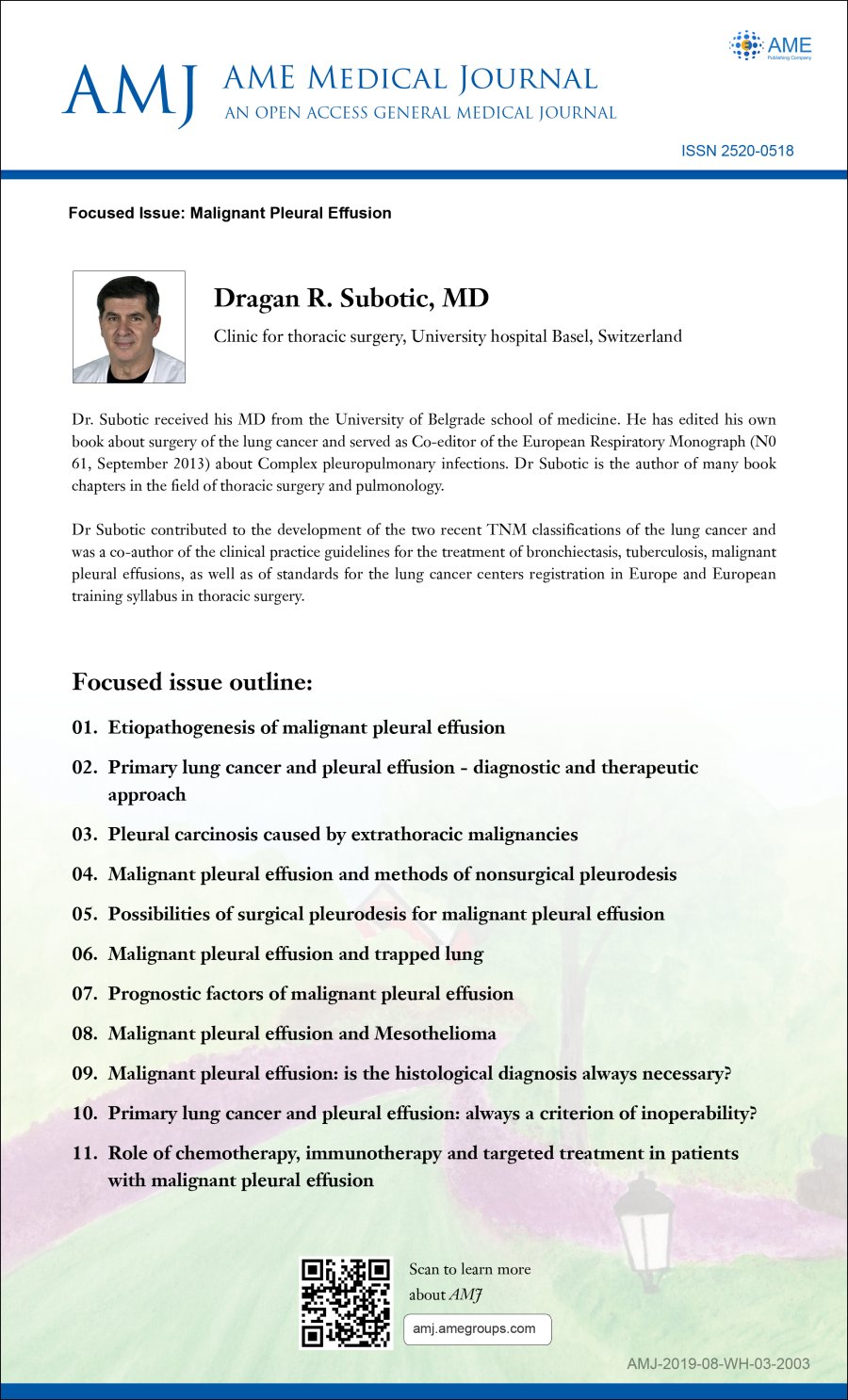 This focused issue on "Malignant Pleural Effusion" is edited by Dr. Dragan R. Subotic, MD. from Clinic for thoracic surgery, University hospital Basel, Switzerland

Dr. Subotic received his MD from the University of Belgrade school of medicine. He has edited his own book about surgery of the lung cancer and served as Co-editor of the European Respiratory Monograph (N0 61, September 2013) about Complex pleuropulmonary infections. Dr Subotic is the author of many book chapters in the field of thoracic surgery and pulmonology.
Dr Subotic contributed to the development of the two recent TNM classifications of the lung cancer and was a co-author of the clinical practice guidelines for the treatment of bronchiectasis, tuberculosis, malignant pleural effusions, as well as of standards for the lung cancer centers registration in Europe and European training syllabus in thoracic surgery.

Focused issue outline:
01. Etiopathogenesis of malignant pleural effusion
02. Primary lung cancer and pleural effusion - diagnostic and therapeutic approach
03. Pleural carcinosis caused by extrathoracic malignancies
04. Malignant pleural effusion and methods of nonsurgical pleurodesis
05. Possibilities of surgical pleurodesis for malignant pleural effusion
06. Malignant pleural effusion and trapped lung
07. Prognostic factors of malignant pleural effusion
08. Malignant pleural effusion and Mesothelioma
09. Malignant pleural effusion: is the histological diagnosis always necessary?
10. Primary lung cancer and pleural effusion: always a criterion of inoperability?
11. Role of chemotherapy, immunotherapy and targeted treatment in patients with malignant pleural effusion