Editors-in-Chief
Dr. Yaxing Shen, MD (Thoracic Surgery)
Department of Thoracic Surgery, Zhongshan Hospital, Fudan University, Shanghai, China
Dr. Yaxing Shen, served as the attending surgeon at the Department of Thoracic Surgery, Zhongshan Hospital, Fudan University and the vice president of AME Publishing Company. Dr. Shen graduated from Shanghai Medical College of Fudan University, and completed his residency in Zhongshan Hospital, Fudan University. He received AATS Graham Fellowship Awards in 2015 and finished the Fellowship training sponsored by Dr. D'Amico from Duke University and Dr. Patterson from Washington University in St. Louis) between 2015-2016. He was the speaker of the world's top 3 congresses of thoracic surgery (AATS, STS and ESTS), with publications on the tops 3 journals on thoracic surgery (JTCVS, ATS and EJCTS). He is the Member of AME Journal Club Committee since 2013. In 2014, he received grant from the National Natural Science Foundation of China (NSCFC), which was supportive to his academic interests including Minimally Invasive Esophagectomy and VATS uniportal surgery.
---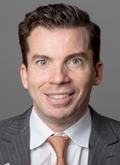 Philippe E. Spiess, MD, MS, FACS (Genitourinary Oncology)
Department of Genitourinary Oncology, H. Lee Moffitt Cancer Center & Research Institute, Tampa, FL, USA
Dr. Philippe E Spiess is presently a Senior Member in the Department of Genitourinary Oncology and the Department of Tumor Biology at the H. Lee Moffitt Cancer Center and Research Institute. Similarly he serves as the Assistant Chief of Surgery in addition to several other administrative responsibilities that enhance the quality of care provided to patients at the cancer center. Furthermore, he is also full Professor in the Department of Oncologic Sciences at the University of South Florida, College of Medicine.
As a native of Canada, Dr. Spiess received a master's in Experimental Urology surgery at McGill University in 1995 and his medical degree from the University of Toronto in 1999. Dr. Spiess completed a three-year SUO-accredited urologic oncology fellowship at the MD Anderson Cancer Center in Houston, Texas.
Dr. Spiess has published over 180 peer-reviewed manuscripts and has edited 5 textbooks in urologic oncology. Dr. Spiess sits on several international editorial boards including Urologic Oncology: Seminars and Original Investigations (2013), British Journal of Medicine and Medical Research (2012), and the International Brazilian Journal of Urology (2017).
Dr. Spiess currently serves as the vice-chair of the NCCN panel for bladder and penile cancer. Heavily engaged in both fundamental and clinical kidney, penile, and bladder cancer research, Dr Spiess has developed international multi-institution study collaborations which have re-defined the therapeutic approach to metastatic and locally advanced genitourinary cancers. In this regard, Dr. Spiess has been invited to speak on penile cancer as a leading expert internationally including Brazil, Canada, China, Mexico, and Peru.
Editor-in-Chief of AMJ
Terms of Appointment: Mar 2020 - Feb 2025
Associate Editor-in-Chief of AMJ
Terms of Appointment: Sep 2017 - Feb 2020
---
Xingshun Qi, MD (Gastroenterology and Hepatology)
Department of Gastroenterology, General Hospital of Shenyang Military Area, Shenyang, China
Dr. Xingshun Qi was born in July 1984 in Shenyang, China. He obtained his medical doctoral degree at the Fourth Military Medical University in Xi'an, China. He completed his post-doctoral fellowship at the General Hospital of Shenyang Military Area in Shenyang, China. Now, he is working at the Department of Gastroenterology of the General Hospital of Shenyang Military Area. His major research interests are the clinical researches in the etiology, diagnosis, and management of liver cirrhosis, portal hypertension (especially portal vein thrombosis and Budd-Chiari syndrome), and hepatocellular carcinoma.
His major work was published in the Nature Reviews Gastroenterology and Hepatology, Journal of Hepatology, Clinical Gastroenterology and Hepatology, Alimentary Pharmacology & Therapeutics, Thrombosis and Haemostasis, American Journal of Medicine, etc.
Except for a Co-Editor-in-Chief of AME Medical Journal, he also served as an associate editor of Annals of Hepatology, a lead guest editor in Gastroenterology Research and Practice, BioMed Research International, and Therapeutic Advances in Gastroenterology, a guest editor in Canadian Journal of Gastroenterology and Hepatology, an editorial member of World Journal of Hepatology, World Journal of Meta-Analysis, and Cardiovascular & Hematological Disorders - Drug Targets, and a column executive editor of Journal of Translational Internal Medicine. He served as a peer-reviewer in more than 60 journals. According to the Scopus, his H-index is 24, and total number of citation is 1930 now.