Review Article
Conduits in coronary artery bypass grafting
Introduction
The idea of arterial wall patching was first reported by Alexis Carrel in 1910, using arterial, venous or even peritoneal patches, for which he received the Nobel Prize in medicine in 1912 and this experimental work laid the foundation for coronary artery revascularization that emerged four decades later using various conduits (1). For the most part of the twentieth century coronary artery bypass grafting (CABG) was the mainstay of therapy for significant coronary artery disease (2). Although it has seen a decline in its widespread application in the era of cardiac catheterization and newer generations of stents, CABG remains the method of choice in patients with more complex, multi-vessel severe coronary artery disease (3).
The most efficient means of coronary revascularization is the left internal thoracic artery (LITA) to left anterior descending artery (LAD) anastomosis, however controversy surrounds the effectiveness of conduit options for the non-LAD bypass. In this review, we will present relevant data regarding conduits used in CABG.
---
Internal thoracic artery (ITA)
The ITA originates from the first part of the subclavian artery; located parallel to the edge of the sternum on either side. It terminates distally as the superior epigastric and the musculophrenic arteries.
The ITA was first used as a conduit in CABG by Vineberg in 1946 (4). Even in current practice, it is the most reliable and effective graft utilized by cardiac surgeons due to its excellent durability. LITA grafting, an important milestone in the field of coronary revascularization surgery, is the gold standard practice in CABG (5). Improved patency of the ITA graft compared to venous conduits paved way for investigations into the use of multiple arterial conduits due to expected survival benefit (6).
The improved survival in coronary revascularization using LITA to LAD was established in a landmark study in 1986 (5). In another study by Tatoulis and colleagues (7) that included 1,408 patients with angiographic follow up studies, the patency rates for LITA to LAD were 95% and 88% at 10- and 15-year follow up, respectively. The improved survival has a direct relationship with graft durability. Its unique physiologic properties make LITA a durable conduit. The LITA is an elastic artery having few muscular components, thin media, multiple elastic laminae; produces anti-inflammatory agents like nitric oxide; and due to lack of vasa vasorum its nutritional supply is dependent on the blood streaming in its lumen—properties that make it resistant to the process of atherosclerosis (8,9).
The patency rates of the LITA grafting are also governed by the target coronary artery selected for the conduit. Durability is best achieved when the LITA anastomosis is carried out to the left coronary system compared to the right coronary system (10). Classically, LITA is used as an in situ graft. However, its use as a free conduit as well as in configurations such as sequential or Y grafts is also well-described. Raza and colleagues (11) demonstrated, in a retrospective study of 60,000 CABG patients with the LITA being utilized in different configurations, that the Y-graft configuration had lower graft patency compared to the sequential configuration. However, both had better long-term patency compared to the venous grafts (Table 1).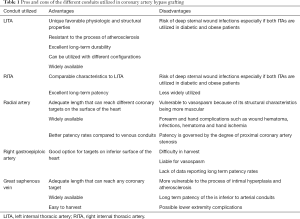 Table 1
Pros and cons of the different conduits utilized in coronary artery bypass grafting
Full table
Studies have reported structural similarities between the LITA and right ITA (RITA). Both can be used either in-situ or as a free graft. The common practice is to use the LITA, which allows for better anastomosis due to its proximity and location to the heart, preferably to revascularize the LAD or most important coronary artery. On the other hand, RITA if utilized is usually anastomosed to branches of the circumflex artery, proximal or mid portions of the right coronary artery or sometimes the posterior interventricular artery (12).
---
Multiple arterial grafts
The long-term survival after CABG is related to the longevity of the grafts used, and arterial conduits have better long-term patency compared to venous grafts (13). Consequently, utilization of multiple arterial conduits has increased over time and the use of vein grafts in CABG is being limited. Radial artery, RITA, right gastroepiploic artery (RGEA) and inferior epigastric artery are the usual arterial conduits utilized to graft other coronary arteries as a complement to the LITA anastomosis to the LAD.
---
Bilateral ITA grafting
Late survival after CABG correlates with the durability of the conduits used for revascularization (14). The improved survival noted with multiple arterial grafting compared to LITA/saphenous vein graft (SVG) strategy is probably due to the physiological mechanisms in the wall of the arterial grafts that resist the process of atherosclerosis compared to the venous grafts (6). Lytle and colleagues (15) reported an improved survival in CABG patients who had bilateral compared to single internal thoracic artery (SITA) grafting (15).
An important deterrent amongst surgeons against adopting the use of bilateral internal thoracic artery (BITA) grafting is the fear of deep sternal wound infection (DSWI) especially in diabetic patients (6). The Society of Thoracic Surgeons (STS) ranks DSWI as a sentinel event (16). In light of this major concern, Deo and colleagues, in a meta-analysis that included 126,000 diabetic patients, demonstrated that the risk of DSWI can be low, provided the ITA is meticulously harvested in a skeletonized fashion to prevent sternal bone devascularization (6).
Despite the improved clinical outcomes of BITA over SITA grafting, its adoption rate is low, reported around only 4% by an STS report that included 541,368 CABG patients (17).
---
Radial artery conduit
Radial artery utilization as a conduit in CABG was adopted following its promotion by Carpentier in 1972 (1). In the early days of radial artery usage vasospasm was counteracted by mechanical dilatation. Mid-term outcomes in the early era, reported by Geha, were disappointing since one third of the radial artery conduits were occluded in 2 years (18). Thus, the usage of this arterial conduit fell out of favor for some years. Acar demonstrated that early graft failure was related to injuries during the harvesting process (19). This led to adoption of pedicled radial artery harvesting and routine application of vasodilators, which saw a resurgence in utilization of this conduit since 1989 (20).
Structure and functional behavior of the radial artery are different from other arterial conduits such as the ITA. Being more muscular, the radial artery is vulnerable to vasospasm, which mandates routine prophylaxis using calcium channel blockers and nitrates in the peri-operative period. Post-operatively, calcium channel blockers remain the classical pharmacologic strategy to prevent vasospasm (21).
Radial artery harvesting is not without the risk of forearm and hand complications such as wound hematoma and infections, as well as neurological and vascular dysfunction of the hand. Hence routine practice is to obtain this conduit from the non-dominant side and perform vascular adequacy tests such as Allen's test to ensure balanced circulation between the radial and ulnar arteries prior to harvesting (22). Radial artery has the advantage of avoiding the risk of sternal blood supply compromise related to ITA harvesting. In addition, the length can reach different coronary targets on the surface of the heart, therefore classical practice is to utilize this conduit as part of multiple or total arterial revascularization strategy.
Although angiographic studies demonstrate superior durability of radial artery conduit compared to SVG at five-year follow up, careful target coronary selection should be employed due to issues of competitive flow (23,24). Setting a cutoff threshold of 70% proximal coronary artery stenosis to minimize the risk of graft failure due to competitive flow has been suggested (25).
---
Radial artery versus ITA as a second arterial conduit
Despite inconclusive results provided by the largest randomized controlled trial exploring benefits of arterial conduits in CABG (26), clinical advantages of improvement in long term survival, and reduced incidence of repeat revascularization, angina and myocardial infarction, have been demonstrated in multiple observational studies (27,28).
Choice of a second arterial conduit in CABG usually has to be between the radial artery and RITA due to improved long-term patency of both conduits compared to saphenous vein. Coronary target anatomy, patient comorbidities and surgical expertise govern utilization of one or both of these conduits. In current practice, radial artery is utilized to graft coronary arteries with proximal high-grade stenosis in the presence of significant risk for DSWI, while RITA is preferable for grafting less than severe coronary artery stenosis and in the presence of insufficient hand collateral circulation.
---
RGEA
RGEA was first used by Bailey in 1967 (29). However, it is not widely used in CABG. Once considered, it is particularly suited for the targets on the inferior aspect of the heart (distal right coronary artery, posterior interventricular artery). It can be used as a pedicled conduit or as a free graft and being small in size it is prone to vasospasm (30). Previous partial or total gastrectomy preclude its usage, and data reporting its long-term patency rates is scarce.
---
Less commonly used arterial conduits
The ulnar, inferior epigastric, inferior mesenteric, splenic and subscapular arteries have been utilized as conduits for CABG. These are rarely used and in exceptional conditions when the common conduits are not available or cannot be utilized for revascularization for various reasons (12).
---
Great saphenous vein (GSV)
GSV was used first by Favaloro in 1968 (31). Since then GSV continues to be the most widely utilized conduit because of its adequate length and availability. Long term patency of the GSV is inferior to arterial conduits due to its structural characteristics. It is more vulnerable to intimal hyperplasia and atherosclerosis (32).
Angiographic patency rate after GSV grafting is approximately 60% at 15 years follow-up (33).
The pathophysiology of vein graft disease proceeds through distinct phases after conduit-coronary anastomosis which may lead to total graft occlusion. Graft failure in the early phase (first month), is characterized by graft thrombosis. Mechanical over-distention or injuries related to graft handling at the time of vein harvest cause endothelial dysfunction resulting in reduced antithrombotic mechanisms and vasorelaxation. Intermediate phase graft failure (one month to one year) is usually a result of neointimal hyperplasia. It is triggered by endothelial cell damage leading to overexpression of cytokines and multiple growth factors which causes accumulation of extracellular matrix and smooth muscle cells in the intima.
The classical method of saphenous vein harvest is by the open surgical technique, which includes leg and thigh incisions that carry the risk of wound complications. More recently endoscopic vein harvesting (EVH) has been adopted after studies suggested that this method reduces postoperative pain and leg wound complications (34). A recent systematic review and meta-analysis by Li and colleagues that included 28,000 patients demonstrated that in comparison to classical open saphenous vein harvest method, EVH had lower durability of vein grafts in the mid and long term follow up period (35). Implementation of the "No Touch" method of vein harvest, may provide further functional and structural protection which translates into long-term durability of the graft (36).
---
Short saphenous vein (SSV)
SSV is rarely used as a conduit for coronary revascularization. It can be an alternative conduit when ITA and GSV have been utilized. Reports by Raess (37) and Salerno (38) demonstrated that SSV is a viable option in coronary revascularization. However, angiographic studies to further clarify the durability of this conduit are lacking.
---
Conclusions
Variety of arterial and venous conduits are used in CABG. Strategic selection of conduit is of high importance to achieve long-term durability. The standard for CABG is the use of ITA, due to its excellent long-term results. Its high permeability is attributed to the morphological characteristics of the wall that has a low propensity for developing atherosclerosis and hyperplasia. Furthermore, luminal diameter and wall thickness are similar to the coronary arteries. LITA is the gold standard conduit that provides excellent long-term patency and is usually used to bypass the LAD artery. RITA has structural similarities to LITA and frequently used to bypass the branches of the circumflex coronary artery, right coronary artery and posterior descending artery. Care should be taken in the method of harvest to preserve sternal blood supply if both ITAs are utilized especially in diabetic or obese patients. Radial artery is also a valid option with better durability than SVGs, and with an adequate length can reach distal coronary targets. Due to its propensity for vasospasm it is best used for coronary arteries with high-grade proximal stenosis. Finally, the GSV is a widely available conduit, meticulous method of harvesting and avoidance of over distention are crucial to preserve the structural configuration.
---
Acknowledgments
Funding: None.
---
Footnote
Provenance and Peer Review: This article was commissioned by the Guest Editor (Shahzad G. Raja) for the series "Coronary Artery Bypass Grafting" published in AME Medical Journal. The article has undergone external peer review.
Conflicts of Interest: All authors have completed the ICMJE uniform disclosure form (available at http://dx.doi.org/10.21037/amj-2020-abg-08). The series "Coronary Artery Bypass Grafting" was commissioned by the editorial office without any funding or sponsorship. The authors have no other conflicts of interest to declare.
Ethical Statement: The authors are accountable for all aspects of the work in ensuring that questions related to the accuracy or integrity of any part of the work are appropriately investigated and resolved.
Disclaimer: The comments and material presented in this manuscript are the sole responsibility of the authors. They do not represent the position of the Department of Veteran Affairs or the United States Government.
Open Access Statement: This is an Open Access article distributed in accordance with the Creative Commons Attribution-NonCommercial-NoDerivs 4.0 International License (CC BY-NC-ND 4.0), which permits the non-commercial replication and distribution of the article with the strict proviso that no changes or edits are made and the original work is properly cited (including links to both the formal publication through the relevant DOI and the license). See: https://creativecommons.org/licenses/by-nc-nd/4.0/.
---
References
doi: 10.21037/amj-2020-abg-08
Cite this article as: Altarabsheh SE, Sheikh AM, Ilyas S, Raza S, Deo SV. Conduits in coronary artery bypass grafting. AME Med J 2021;6:16.