Review Article
Etiopathogenesis of malignant pleural effusion
Introduction
Malignant pleural effusion (MPE) is featured by containing malignant cells (1,2). It is a frequent finding in patients with metastatic disease and it develops in 15% of patients with malignant disease (3-7), and its presence generally indicates a poor prognosis (8).
Two-thirds of all cases have a pleural effusion as one or sole initial manifestation of malignant disease. Primary tumors that most frequently develop MPE are lung, breast cancer, and lymphoma accounting for 75% of all cases. A MPE can develop in primary or metastatic malignancies of the pleura by spreading of malignant cells within the intrapleural cavity and into lymphatics causing their obstruction (1,2,5). The otherwise physiologic balance between the secretion of fluids into the pleural space and its reabsorption is largely disturbed by the occurrence of a MPE.
Advancements in molecular medicine enabled that the impact of tumor-host cell interactions has been recognized as an important mechanism in development of MPE.
---
Epidemiology of MPE
In adult population, 95% of MPEs develops from a metastatic site, and 75% of them originate from lung, breast cancer, and lymphoma (5), while the primary tumor remains unknown in approximately 5–6% of patients. During the course of malignant disease, nearly 50% of breast cancer patients have a MPE, approximately one-fourth of patients with lung cancer and one-third of patients with lymphoma, being most frequent malignancies followed by gynecological cancers and malignant mesothelioma (9,10) (Table 1).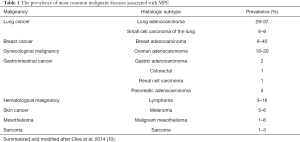 Table 1
The prevalence of most common malignant diseases associated with MPE
Full table
The MPE is the initial manifestation of a malignant disease in two-thirds of patients, with around 50% of them originating from lung cancer.
Although lung cancer subtypes have many similar histologic characteristics, there are many differences regarding their molecular features (11), squamous cell cancer being most frequent tumor developing a MPE in man, basically infiltrating directly the pleura. MPE is the initial sign of disease in 8–15% patients with lung cancer while in 40–50% it develops during lung cancer progression, and it is typically ipsilateral in 90% of those patients and bilateral or contralateral in 10% (12-14). The prevalence of MPE in SCLC is 10–38%, and unlike squamous cell lung cancer, it is the consequence of indirect infiltration of the lymphatics (15).
In breast cancer, the prevalence of MPE is 2–11%, most frequently one-sided, ipsilateral, most common in triple-negative breast cancer, and most often occurrence of the MPE is a bad prognostic factor. Interestingly, it can develop years after the diagnosis of breast cancer has been established. In breast cancer metastatic dissemination into the pleural space occurs via the lymphatic vessels (8,16,17). It has been noted that in the most invasive breast cancer subtype, triple-negative breast cancer, metastases develop most commonly between the second and third year after diagnosis been established. One of the characteristics of breast cancer metastases is that they often have subsequent mutations and molecular changes, so that is why Ki-67, a poor prognosis biomarker is determined in MPE, with increased values observed in 63% of MPE (16,17).
The most frequent (peritoneal) manifestation of epithelial ovarian cancer is MPE, recorded in 33–53% of cases, with ovarian cancer cells infiltrating directly the pleural structures directly via the diaphragm, pleuroperitoneal route or hematogenous dissemination (18). MPE occurs in 15% of newly diagnosed patients, as the initial clinical manifestation of ovarian cancer (18,19). Ipsilateral MPE is observed in 77%, while bilateral in 23%. Well recognized ovarian cancer biomarkers CA-125 and CA-15-3 are commonly found in increased levels in blood and pleural effusion as well (18).
When it comes to the MPE in Non-Hodgkin lymphoma, its prevalence is 16–20% of cases, that are more often left sided, most frequent in diffuse giant-cell B lymphoma (60%), and in follicular lymphoma (20%). The underlying pathophysiological mechanisms MPE develops via direct pleural infiltration with tumor-host cell interactions, lymph vessels obstruction with invasion of hilar and mediastinal lymph nodes, obstruction of the ductus thoracicus leading to chylothorax (20,21).
In Hodgkin lymphoma MPE develops as initial clinical manifestation of the disease in 10–30%, while in 60% of cases it occurs during further lymphoma progression. It should be noted that lymphomas are the most often cause of MPE occurrence in children and can also develop in patients with primary lymphoma of the pleura (20-22). Diagnosing MPE in lymphomas is rather difficult, a big challenge, mostly due to the paucity of cells in the fluid (21). MPE in lymphomas generally have poor prognosis as well, and moreover, around one third of lymphoma cases with MPE are chemotherapy-resistant (23,24).
Malignant pleural mesothelioma has prevalence of MPE of 54–90% of cases, commonly presenting at an early stage of disease (23,25).
It is important to underline that patients with a diagnosis of malignant disease can display a "paramalignant" pleural effusion because of local effects of their tumor. There are a variety of them such as atelectasis due to an intrabronchial obstruction, post-obstructive pneumonia with a parapneumonic effusion, some general tumor-related events like venous thromboembolism and hypoalbuminemia, and of course as adverse events of different treatment modalities such as radiotherapy and chemotherapy.
---
Pathophysiology and pathogenesis of MPE
An MPE can develop from primary or metastatic malignancies of the pleura by dissemination into pleural space and lymph vessels obstruction (1,2,5). The physiologic balance between influx of liquids into the pleural space and its reabsorption is largely disturbed producing a pleural effusion in a malignant disease, and both mechanisms, an increase in entry rate and a reduction in exit rate, contribute to development of MPE.
Malignant cells can invade the pleural space via the hematogenous, direct or lymphatic dissemination. Direct tumor involvement of pleura can lead to a pleural fluid accumulation by increasingly producing the liquid and thus influencing the normal parietal pleural lymphatic functioning. Tumor may extensively infiltrate pleural capillaries, leading to increased filtration, or may produce different cytokines that increase capillary permeability (26-28), while decreased plasma osmotic pressure or decreased pleural pressure can contribute to the enhanced entry of liquid as well. Elevations of hydrostatic pressure can thus also enlarge filtration from the pleural membrane microvessel.
On the other hand, tumor growth infiltrating the draining lymphatics or lymph nodes may block the lymphatic drainage thus decreasing the exit rate, the absorbtion rate of pleural fluid, with the subsequent accumulation of fluid in the pleural space (1), while different extrinsic factors including limited respiratory mobility, mechanical compression of lymph vessels with blockage of their stomata, may be responsible in the cases when lymphatics activity is significantly damaged, but not due to direct damage of the vessels (29). In some cases of lymphatic infiltration, the decrease in the exit rate may represent a key mechanism of MPE development, when the effusions can resolve after mediastinal irradiation of involved lymph nodes. In certain MPEs, extrapleural involvement of draining lymphatics may be the sole mechanism of effusion formation, that may explain the transudative type of malignant effusions, which is noted in about 10 percent of patients with MPE (30). Extensive tumor cells infiltration of pleural capillaries most probably may explain cases with rapid entry rates, which can be recognized clinically because of the rapid effusion reaccumulation after drainage or having high chest tube drainage rate.
An interesting observation is that only 55–60% of patients with metastases into pleura or lymph vessels and/or nodes have MPE (31), the reason is not quite clear, but there is evidence of more often poor outcome in those with "wet" pleural carcinosis in comparison to "dry" pleural carcinosis (31).
With the advancements in molecular medicine, the impact of tumor-host cell interactions has been recognized as an important pathogenetic mechanism in development of MPE, with the hyperproduction of pleural fluid from hyperpermeable vessels, the process recognized as a very important but complex mechanism in development of MPE. Variety of cells and molecules are part of this complex process, producing diversity of effects regarding pleural inflammation, tumor angiogenesis and vascular hyperpermeability. Tumor- and host-derived factors involved in MPE development include numerous secreted mediators: Osteopontin (OPN; secreted phosphoprotein 1), C-C motif chemokine ligand 2 (CCL2; monocyte chemoattractant protein-1), vascular endothelial growth factor (VEGF), tumor necrosis factor (TNF), Angiopoietins 1 and 2, Interleukin-5, Interleukin-6 etc. Some of them stimulate the pleural inflammation and include interleukin 2 (IL2), tumor necrosis factor (TNF) and interferon (INF); molecules that stimulate tumor angiogenesis appear to be angiopoietin 1 (ANG-1), angiopoietin 2 (AGN-2), while the molecules affecting vascular hyperpermeability include vascular endothelial growth factor (VEGF) that increase capillary permeability, matrix metalloproteinases (MMP), chemokine (c-c motif) ligand 2 (CCL), osteopontin (OPN), etc. (32-42). It has been demonstrated that mastocytes have an important contribution on inducing MPE as the key cells producing cytokines, such as tryptase alpha/beta 1 (AB1) and interleukin-1β (IL1 beta), leading to increased permeability (42). The secretion of tryptase alpha/beta 1 and interleukin-1β enhances the permeability of the pulmonary vessels and have the profound effect on activating the NF-ffB transcription factor, which fosters the accumulation of effusion and tumor progression (1,42) (Figure 1).
To summarize, in primary or metastatic pleural tumors, the balance between vasoactive mediators (e.g., VEGF, TNF, CCL2, OPN, etc.) and possibly protection molecules (e.g., endostatin) within the pleural cavity determines the process of vasoactive signaling with consequent development of pleural effusion. This very combination of signals is a key process dictating further host cell activation and recruitment. On the other hand, resident and incoming host cells exhibit multiple active roles, such as directly affecting malignant cells (transcription factor stimulation; rejection, tumor promotion, immunoediting and/or tumor escape), as well as producing some indirect effects on the pleural vessels, immune cell populations, and mesothelium, thus impacting inflammation, angiogenesis, vascular leakage, and/or intrapleural metastasis with development of new malignant foci within pleura (31) (Figure 2).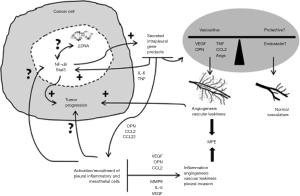 Figure 2
A revised concept of MPE pathogenesis. Modified after Stathopoulos
et al.
(
31
).
The genomic analysis of malignant cells detected that cancers with activating mutations EGFR, KRAS, PIK3CA, BRAF, MET, EML4/ALK and RET demonstrated significantly more frequently development of MPE (43-45), with evidence of different mutations in the primary tumor vs. pleural metastases (46-48).
---
Acknowledgments
Funding: None.
---
Footnote
Provenance and Peer Review: This article was commissioned by the Guest Editor (Dragan Subotic) for the series "Malignant pleural effusion" published in AME Medical Journal. The article has undergone external peer review.
Conflicts of Interest: The author has completed the ICMJE uniform disclosure form (available at http://dx.doi.org/10.21037/amj-2019-mpe-05). The series "Malignant pleural effusion" was commissioned by the editorial office without any funding or sponsorship. The author has no other conflicts of interest to declare.
Ethical Statement: The author is accountable for all aspects of the work in ensuring that questions related to the accuracy or integrity of any part of the work are appropriately investigated and resolved.
Open Access Statement: This is an Open Access article distributed in accordance with the Creative Commons Attribution-NonCommercial-NoDerivs 4.0 International License (CC BY-NC-ND 4.0), which permits the non-commercial replication and distribution of the article with the strict proviso that no changes or edits are made and the original work is properly cited (including links to both the formal publication through the relevant DOI and the license). See: https://creativecommons.org/licenses/by-nc-nd/4.0/.
---
References
doi: 10.21037/amj-2019-mpe-05
Cite this article as: Jovanovic D. Etiopathogenesis of malignant pleural effusion. AME Med J 2021;6:28.