Review Article
Challenging and opportunities in clinical implementation of circulating cardiac biomarkers in diabetes mellitus: the narrative review
Introduction
Type 2 diabetes mellitus (T2DM) is one of the most important non-communicable diseases the prevalence of which is progressively increasing worldwide and is associated with an occurrence of cardiovascular (CV) disease and CV mortality in a global scale (1,2). Globally, 415 million adults aged from 20 to79 years have T2DM and it is expecting up to 2025 the number of diabetics as will be 2-fold higher to today (3). The major risk factors for T2DM patients afflicted an increased risk of death are conventional predictors, such as abdominal obesity, hypertension, dyslipidemia, while other conditions including microvascular and systemic inflammation, endothelial dysfunction, altered cardiac and vascular reparation, cardiac and kidney fibrosis, are involved in the plaque formation, atherosclerosis acceleration, development of CV remodeling, kidney dysfunction and heart failure (4-6). Finally, T2DM contributing to CV mortality and morbidity yields a large economic burden for patients and their families, public health and national health care systems in either developed or developing countries (7-9). It has been suggested that the risk of progression from prediabetes to T2DM and the CV event occurrence can be evaluated by several biomarkers that affect various pathophysiological stages of natural evolution of the disease (10,11). Moreover, biomarker-guided therapy of T2DM can vigorously strength the management of the disease and improve the s strategy toward prevention of the CV complications (12,13). The aim of the narrative review is to summarize the knowledge with respect to clinical perspectives of the implementation of the circulating biomarkers to stratify T2DM patients at higher CV risk. We present the following article in accordance with the Narrative Review reporting checklist (available at http://dx.doi.org/10.21037/amj-20-147).
---
Methodology
The bibliographic database of life science and biomedical information MEDLINE, EMBASE, Medline (PubMed), the Web of Science, and the Cochrane Central were searched for English publications satisfying the key words of this study. We used the following key words [diabetes mellitus], [type 2 diabetes mellitus], [cardiovascular risk], [cardiovascular risk factors], [cardiac biomarkers]; [circulating biomarkers]; [prognosis]. Both authors independently evaluated the quality of the articles, correspondence to the main idea of the study, and constructed the final list of the references
---
The vicious cycle of T2DM and CV diseases
CV diseases and events are attributes of T2DM progression (14). It has been established that hyperglycemia and lipotoxicity contribute to numerous molecular and cellular mechanisms, such as impaired insulin signaling, accumulation of advanced glycated end-products, altered cell autophagy, activation of renin angiotensin aldosterone and sympatric systems, and signal transduction though several receptors (G-protein receptor kinase, and β-2 adrenergic receptors), which support the development of the oxidative stress, systemic and microvascular inflammation, endoplasmic reticulum and mitochondrial stress, neutrophil extracellular traps, and changes in myocardial and vascular structure (15-17). These common mechanisms are substantial for overlap in T2DM and conventional CV risk factors, such as hypertension, dyslipidemia, abdominal obesity, and smoking (18,19). Up-regulation in the inflammation, neurohumoral response and oxidative stress, and activation of the immune system in diabetics leads to microvascular inflammation, acceleration of atherosclerosis, cardiac and vascular remodeling, development of pro-thrombotic state and finally the occurrence of CV events including CV death, nonfatal myocardial infarction, non-fatal stroke, urgent hospitalization for unstable angina, life-threatening arrhythmias and heart failure (20-22). Figure 1 is reported the vicious cycle of T2DM and CV disease interplay. Thus, conventional CV risk factors, hyperglycaemia and metabolic abnormalities secondary to T2DM (lipotoxicity, insulin resistance, adipocytokine dysfunction), acceleration of atherosclerosis, cardiac hypertrophy and myocardial impairment, and vascular injury increases the risk of macrovascular and microvascular complications shaping the vicious cycle in T2DM (23,24).
---
CV biomarkers in T2DM
Whether T2DM patients has the same risk of premature death as those with established coronary heart disease and whether T2DM should be considered as equivalent to high and very high CV risk is not obvious and it is remaining under scientific debates now (25). Contemporary paradigm in T2DM management is based on the importance of point-to-care therapies and stratification of the patients at CV risk based on considerations including aging, comorbidities, stablished CV diseases, and biomarkers not merely for glycaemia control, but applying several target organ damage (26-28). Circulating biomarkers reflecting various pathophysiological stages of the evolution of T2FDM and its CV complications allow identifying a risk of the patents and predicting clinical outcomes for many cases (Figure 2). Current clinical recommendations from the American Heart Association, the American Diabetes Association and the European Society of Cardiology focus on the biomarkers of biomechanical stress, fibrosis and inflammation (26-28).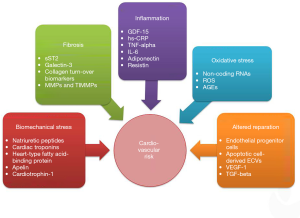 Figure 2 Circulating biomarkers in CV risk stratification among diabetics. sST2, soluble suppressor tumorigenecity-2; GDF, growth-differentiation factor; hs-CRP, high sensitive C-reactive protein; TNF, tumor necrosis factor; IL, interleukin; ROS, reactive oxygen species; ECVs, extracellular vesicles; VEGF, vascular endothelial growth factor; TGF, transforming growth factor.
---
Biomechanical stress biomarkers
Natriuretic peptides (NPs)
NPs are well established biomarkers of biomechanical stress due to cardiac wall stretching, volume overload, myocardial ischemia/necrosis, inflammation and myocardial hypertrophy (29). Having a wide range of specific function in the regulation of water and electrolyte homeostasis, vasodilation, diuresis, proliferative and inflammatory responses, the family of NPs is involved in the adaptive molecular mechanisms counteracting to cardiac and vascular remodeling, kidney fibrosis, and endocrine dysfunction (30). Atrial, brain and endothelial types of NPs exert their biological effects through specific receptors and play a protective role against the development of CV remodeling, microvascular inflammation, renal and endothelial dysfunction, accelerating atherosclerosis, metabolic abnormalities (insulin resistance, lipid metabolism), adipose tissue and skeletal muscle dysfunction (31-33). In addition, atrial and brain NPs regulate tissue expressions of the pro-inflammatory genes and thereby mediate cardiac protective effect (34). Moreover, neprilysin gene expression in T2DM patients is under close control of NPs and this impact is driven through the epigenetically suppression of the H2AK5Ac, H2BK5Ac, H3K18Ac, and H4K8Ac histone acetylation (35). Yet, BNP is produced not merely cardiac myocytes, but adipocytes of white adipose tissue, and this fact explains why the circulating levels of NPs in obese patients and diabetics with abdominal obesity are higher to those who do not have obesity (36,37). Therefore, low expression of adipose tissue receptors for NPs was associated with abdominal obesity and can relate to epigenetic regulation (38). Overall, among T2DM patients NPs support insulin sensitivity and reduce white adipose tissue accumulation.
Previous clinical studies have shown the strong correlation between brain NP (BNP) and N-terminal fragment of BNP (NT-proBNP) and a risk of heart failure (HF) onset and admission (39-41). Elevated levels of NPs were found in T2DM patients with established CV disease regardless of HF presentation (42). In addition, increased levels of NPs predicted CV morbidity and mortality, myocardial infarction, stroke, HF occurrence and hospitalization due to HF and other CV events in T2DM individuals with recent coronary events (42,43). Interestingly, diabetics with coronary artery disease (CAD) who did not demonstrate declining NT-proBNP over 6 months had a significantly higher risk for CV mortality and HF development in comparison with those who demonstrated low levels of NT-proBNP for treatment period (43). Moreover, there were found strong interrelations between NT-proBNP plasma levels and a risk of premature death in T2DM patients having either HFrEF or HFpEF (44). In addition, NPs having a kidney clearance reflect a link between HF, mortality and renal disease. Indeed, the urine NT-pro-C-type of NP to creatinine ratio was more reproducible than the albumin to creatinine ratio and strongly associated with the presence of chronic kidney disease (45). These facts open out new perspectives to treat T2DM patients under serial monitoring of NPs, while recent The Diabetes Prevention Program has revealed significant racial and ethnic differences in the levels of NPs in follow-up (46). Thus, lower NPs levels in African-Americans to white, American-Indian, and Asian individuals require serious explanation to identify the cardio-metabolic implications of serial measure of NPs levels in the clinical trials in the future.
Cardiac troponins
High sensitive cardiac troponins are established biomarkers of biomechanical stress, myocardial ischemia and necrosis (47). Mild elevation of serum levels of cardiac troponins is common in T2DM patients due to leakage of cell troponin fraction through damaged membranes of cardiac myocytes or in result of an increase in membrane permeability (48). It has been found that severe hypoglycemia/hypoglycemia and multiple CV risk factors could associate with elevated hs-TnT levels (49,50). Even youth with T2DM has demonstrated higher levels of high-sensitive circulating troponin T (hs-cTnT) to healthy volunteers (51), but the clinical significance of this fact is unclear and requires to be investigated in further long-term studies. Although an increase in the cardiac troponin levels among diabetics without clinical signs and symptoms of HF was associated with the highest tumor necrosis factor (TNF) receptor tertile and adverse echocardiographic parameters, such as higher left ventricular mass, left atrial internal dimension and E/Em ratio, these relationships were non-existent after adjustment for body mass and age (51). However, a large proportion of T2DM patients has established CV disease or is at higher risk of CAD. Consequently, elevated plasma levels of high sensitive cardiac troponins can reflect either subclinical ischemia-related myocardial damage (≥99th percentile of reference level) or subclinical myocardial stress (<99th percentile of reference level) (52,53). It has been shown that increased levels of hs-cTnT in T2DM patients were correlated with persistent microalbuminuria, as well as elevated extracellular volume fraction, cardiac fibrosis, and diastolic dysfunction measured by CV magnetic resonance (54). Although hs-cTnT plasma level was found to be powerful independent predictor for newly diagnosed HF in T2DM patients with CAD (55), the discriminative potency of BNP/NT-proBNP was higher to hs-cTnT and combination of both biomarkers did not improve a prediction for HF (56-58). In contrast, among HFrEF patients with established T2DM combination of hs-cTnT and NT-proBNP demonstrated additive potency in CV risk prognosis (59). Finally, exercise-induced hs-cTnI elevations above the 99th percentile independently predicted higher mortality and CV events in T2DM patients regardless of HF presentation (60).
---
Biomarkers of inflammation and fibrosis
Soluble suppressor tumorigenicity-2
Soluble suppression of tumorigenicity 2 (sST2) is an interleukin-1 receptor family member that is produced by cardiac myocytes, endothelial cells and certain immune cells. sST2 is up-regulated in response to biomechanical myocardial stress, inflammation and ischemia and exerts cardio-protective and atheroprotective actions through inhibiting IL-33/ST2 signaling (61). In the myocardium sST2 reduces fibrosis, inflammation, hypertrophy and apoptosis of cardiac myocytes (62). Although sST2 lacks disease specificity, it has been incorporated into some clinical recommendations to use as predictive biomarker of CV death and the development of HF (63). In patients with acute and chronic HF elevated serum levels of sST2 strongly related to HF severity and poor clinical outcome (64). Peak concentrations and serial measurement of sST2 added the prognostic information to conventional HF biomarkers including NT-proBNP and hs-cTnT (65,66). Therefore, sST2 is independent predictor of the no-reflow phenomenon in STEMI patients underwent primary percutaneous coronary intervention (67) and all-cause mortality in individuals with atrial fibrillation (68).
Among general population elevated levels of sST2 was associated with not merely HF, but with T2DM, metabolic abnormalities, T2DM-related renal disease and atherosclerosis (69-71). In the patients having pre-diabetes and T2DM elevated concentrations of sST2 (>35 ng/mL) strongly predicted newly diagnosed HF and HF-related outcomes including hospital admission and death (72-74). To sum up, sST2 is now one of independent predictors of CV mortality, all-cause mortality, HF occurrence and HF-related outcomes in either general population or among T2DM patients.
Growth differential factor-15
Growth differentiation factor-15 (GDF-15) is a multifunctional cytokine that belongs to transforming growth factor beta superfamily (75). It is widely expressed on the various cells and contributes to anti-inflammatory and tissue protective properties (76). GDF-15 suppresses c-Jun N-terminal kinase, Bcl-2-associated death promoter and epidermal growth factor receptor signaling pathway and stimulates Smad/eNOS, and PI3K/AKT signaling mechanisms to maintain a survival of cardiac myocytes, adipocytes, and progenitor and mature endothelial cells (75).
Numerous CV diseases including CAD, atherosclerosis, peripheral artery disease, acute myocardial infarction, HF, and stroke were accompanied by elevated concentrations of the GDF-15 (77-79). It has been reported that the circulating levels of GDF-15 >3,812 pg/mL are clearly indicative for T2DM among patients without established CV disease (80,81). The results of the Malmö Diet and Cancer-Cardiovascular Cohort have shown that serum levels of the GDF-15 predicted newly diagnosed T2DM and positively respond to metformin (82-84). Interestingly, the GDF-15 was associated with impaired fasting glucose levels and insulin resistance in non-T2DM population (85). Therefore, elevated levels of the GDF-15 were found to be predictive of all-cause mortality, diabetes mellitus related renal disease, HF, and HF-related outcomes in T2DM (86-88). Thus, the measure of the serum levels of GDF-15 appears to be promising in both CV and metabolic risk stratification, while it is not clear whether GDF-15 will be more meaningful biomarker to sST2 or NPs in patients at risk of T2DM or among diabetics with established CV disease including HF. In addition, there is no evidence what multiple combinations based in GDF-15, sST2, NPs, and cardiac troponins will be more optimal for risk identification.
---
Circulating convention cardiac biomarkers and antidiabetic drugs
Dipeptidyl peptidase-4 inhibitors
The dipeptidyl peptidase-4 (DPP-4) inhibitors were found to have a significant variability in their CV safety. For instance, the results of post-hoc analyses of 2nd and 3rd phases of randomized placebo controlled trials depicted DPP-4 inhibitors (sitagliptin, saxagliptin, vildagliptin, linagliptin, and alogliptin) have shown a cardioprotective effect with a sustainable trend toward declining MACEs (89). In contrast, there were no significant differences between DPP-4 inhibitors and placebo in CV safety in the TECOS (Sitagliptin Cardiovascular Outcome Study) trial on sitagliptin, the EXAMINE (Cardiovascular Outcomes Study of Alogliptin in Subjects With Type 2 Diabetes and Acute Coronary Syndrome) trial on alogliptin, and the CAROLINA (Cardiovascular Outcome Study of Linagliptin Versus Glimepiride in Patients With Type 2 Diabetes) trial on linagliptin. The SAVOR-TIMI 53 (Saxagliptin Assessment of Vascular Outcomes Recorded in Patients With Diabetes Mellitus-Thrombolysis in Myocardial Infarction 53 trial) study has been reported that the treatment with saxagliptin versus placebo was associated with an increased risk or HF hospitalization (90-94). In addition, this increase in the risk was highest among patients with elevated levels of NPs, previous HF, or chronic kidney disease (90). Moreover, hs-TnT, NT-proBNP, and hs-CRP were related to a reduction in eGFR (<40%) and HF hospitalization in patients with T2DM (91). Thus, cardiac biomarker predicted the occurrence and the progression of newly diagnosed HF in patient population with established T2DM.
Sodium glucose co-transporter 2 (SGLT2) inhibitors
Previous clinical studies have revealed that sodium glucose co-transporter 2 inhibitors may reduce CV and HF risk in HFrEF patients either with T2DM or without it (95-97). Interestingly, circulating levels of cardiac biomarkers, such as (NT-proBNP, hs-TnI, sST2, and galectin-3, modestly increased over two-year period among patients with poor clinical outcomes, whereas SGLT2 inhibitor canagliflozin delayed the rise in serum levels of NT-proBNP and hs-TnI that was associated with improving prognosis (98). In the DEFINE-HF (Dapagliflozin Effects on Biomarkers, Symptoms and Functional Status in Patients with HF with Reduced Ejection Fraction) Trial the use of SGLT2 inhibitor dapagliflozin over 12 weeks did not lead to the decrease in NT-proBNP serum levels, but was associated with meaningful improvements in HF-related quality of life status (99). The CV effects of new SGLT2 inhibitor ertugliflozin has investigated in the VERTIS-CV trial (eValuation of ERTugliflozin effIcacy and Safety CardioVascular outcomes) trial, in which 30% drop in HF admission risk in the ertugliflozin arm versus placebo arm, was established (100). Whether serial measure of the levels of circulating cardiac biomarkers is effective in prediction of CV outcomes is not still reported. Overall, the treatment initiation with SGLT-2 inhibitors was associated with lower risk of death and HF admission in comparison with other antidiabetic drugs and their combinations among T2DM patients with pre-existing CAD or at high risk of CAD (101,102). In this context, novel biomarkers can be used to thoroughly evaluate the CV risk and predict HF-related outcomes in diabetics without established CV disease and HF (103).
Glucagon-like peptide-1 receptor agonists
In the meta-analysis of 34 clinical trials (n=14,464) there were no differences in CV safety within short-acting glucagon-like preptide-1 (GLP-1) exenatide and lixisenatide or long-acting (albiglutide, dulaglutide, once-weekly exenatide, liraglutide and taspoglutide) groups (104). GLP-1 receptor agonists did not reduce the risk for HF hospitalization in T2DM and their safety in patients with known HF remains equivocal (105). Whether cardiac biomarkers are effective in HF risk stratification is not completely understood (10).
---
Other biomarkers
Matrix metalloproteinases (MMPs)
The family of MMPs is a group of Zn-contained proteolytic enzymes the main biological function of which is extracellular matrix turnover (106). In T2DM MMPs implicate with the development and advance of diabetic-related complications including cardiomyopathy, atherosclerosis, nephropathy, retinopathy, authonomic and peripheral neuropathies, and microvascular angiopathy (107,108). MMP-2, MMP-3, and MMP-9 were found in elevated concentration in the peripheral blood among patients with T2DM having a higher risk of the microangiopathy and retinopathy (109,110). It has been suggested that these MMPs regulating function of immune cells (Treg, macrophages), angiogenesis, vascular remodeling, repair vascular activity and apoptosis through activity through PPAR-alpha/gamma and tissue inhibitor MMP-1-(TIMP-1)-mediated mechanisms and also via NF-κB and MAP kinase signaling pathways are able to modulate tissue susceptibility to ischemia and injury (111-113). In fact, MMPs could have a dual role in T2DM contributing to the occurrence of the cardiomyopathy, retinopathy, and vascular complications at the early stages of the disease, and modulating tissue protection at the late stages through suppression of vascular permeability capillary cell apoptosis, neovascularization and potentiation of mitochondrial stress and extracellular matrix remodeling. Overall, there is no convincing evidence that MMPs reduce the risk of CAD or HF and their expression/concentration could be concise biomarker of the disease progression.
Vascular endothelial growth factor
Vascular endothelial growth factor-1 (VEGF-1) is an important endogenous tissue protective factor contributing to angiogenesis, vascular function, proliferation and apoptosis (114). It has been found increased tissue expression and elevated circulating concentration of VEGF-1 among animals and patients having T2DM (115,116). VEGF-1 reduced production of pro-inflammatory cytokines (TNF-alpha, IL-6, IL-1-beta), monocyte chemotactic proteins-1, intercellular adhesion molecule-1 and mobilize proliferative activity of progenitor endothelial cells via phosphorylation of p65 Nuclear Factor Kappa B (NF-κB) and Extracellular signal Regulated Kinase (ERK) 1/2 (117). There is evidence of the fact that VEGF-1 directly activated several major trophic factors, such as TGF-beta, myocyte enhancer factor 2c, stromal-derived factor-1 and thereby influenced the progenitor cell cascade (118,119).
Numerous complications of T2DM (renal disease, retinopathy, microangiopathy, macroangiopathy, accelerating atherosclerosis) were associated with altered expression of the VEGF-1 and declined circulating levels of this peptide (120-122). Probably, elevated levels of VEGF-1 protect against the ischemia injury and the acceleration of atherosclerosis (123,124). Whether continuous monitoring of the circulating levels of VEGF-1 is useful to stratify patients having T2DM at higher risk of T2DM-related complications and adjust the therapy is not clear.
Collagen turnover biomarkers
Development and progression of T2DM is associated with remarkable loss of bone mass, increased CV risk and a risk of fragile (125). Therefore, the progression of atherosclerosis and ectopic calcifications including vascular and cardiac valve calcification accompany by altered profile of collagen turnover biomarkers (126). There are numerous data, which confirmed the predictive role of bone-related proteins (osteopontin, osteoprotegerin) and collagen turnover biomarkers (carboxyl-terminal peptide of procollagen type I, carboxyl-terminal telopeptide of collagen type I, and amino-terminal peptide of procollagen type III) in CV mortality, HF occurrence and progression, chronic kidney disease, and MACEs (125,127-130).
Serum levels of the bone resorption marker (C-terminal cross-linked telopeptide) and the bone formation markers (osteocalcin and procollagen type 1 amino terminal propeptide) were significantly lower, whereas concentrations of both osteoprotegerin and sclerostin were higher in T2DM patients in comparison with healthy volunteers (131). These finding indicate that the collagen homeostasis is critically important for the development and the progression of T2DM and that control for glucose metabolism may relate to osteopenia and CV risk through altered production of bone-related proteins, such as osteopontin, osteocalcin, and osteoprotegerin (132). Another meta-analysis consisting of 611 clinical studies has shown that C-terminal cross-link of collagen, insulin-like growth factor-1, and sclerostin may potentially predict the fractures among T2DM patients (133). In fact, some investigators reported that T2DM-related microvascular disease and CV risk were associated with the impaired profile of collagen turn-over biomarkers, circulating levels of osteopontin and osteoprotegerin, but after adjustment for glomerular filtration rate these interrelations were sufficiently diminished or even completely missed (134-136). However, large longitudinal studies are needed to elucidate whether collagen turn-over biomarkers are independent predictors of CV events and T2DM-related complications.
The number and function of the endothelial progenitor cells (EPCs)
EPCs are a heterogeneous population of endothelial precursors originated from bone marrow stem cells or peripheral tissue resident cells and having pro-angiogenic and tissue protective abilities (137). The natural evolution of T2DM is associated with decrease in the number of the EPCs and weak their functional ability to differentiate into mature endothelial cells and mediate the vascular reparation, which was called EPC dysfunction (138-140). Lowered number of circulating EPCs strongly correlated with CV risk and predicted MACEs, CV diseases including myocardial infarction and HF, and T2DM-related complications (141-143). Restoring the number and function of EPCs was associated with improvement in NO bioavailability, endothelial function, neovascularization, and decrease in the risk of poor clinical outcomes in T2DM (144,145).
Thus, the number of EPCs is promising biomarker with predictive ability and potential therapeutic target, whereas functional abnormalities of EPCs have demonstrated more close relation to poor clinical outcomes, when compared to merely measure of the number of EPCs, but difficulties to implementation of this approach in the routine laboratory practice make investigators to use a measure of EPC count in peripheral blood (146,147). Future investigations could affect EPC alterations as predictive biomarkers of long-term outcomes and mortality among T2DM.
Endothelial cell derived extracellular vesicles (EVs)
Endothelial cell derived EVs are produced by progenitor and mature endothelial cells and are a crucial element in cell-to-cell cooperation and transportation of several molecules (proteins, lipids, growth factors and hormones, active molecules, non-coding RNAs) to target cells (148,149). There is a large body of evidence of the fact that T2DM development corresponded to altered profile of circulating EVs (150,151). For instance, metabolic syndrome in patients without known CV disease is associated with increase in the levels of endothelial cell derived EVs, but patients T2DM, morbid obesity, CAD, and HF demonstrated lower levels of EVs originated from endothelial cells to those who did not established CV or metabolic disease (152-154). Moreover, some previous meta-analysis have revealed that increased levels of apoptotic endothelial cell derived EVs and decreased mature endothelial cell derived EVs were associated with higher CV risk and the risk of occurrence and progression of CAD and HF (155-157). EVs are promising biomarkers which can be either predictor or targets for innovative therapeutic approaches in the future.
Biomarkers related to CV rehabilitation, exercise or lifestyle modification
Cardiac rehabilitation reduces all-cause and CV mortality in T2DM patients with established CV disease (158). Modest improvements in long-term survival among diabetics with known CV disease suggest that cardiorespiratory fitness programs may require optimization with longitudinal cardiac biomarker measure. For instance, the coincidence of completion of exercise training with the decrease in the levels of NPs or sST2 would be a good confirmation of success in cardiac rehabilitation. Although the acute effects of continuous moderate intensity aerobic exercise and high intensity interval aerobic exercise on endothelial function, arterial stiffness, cardiac remodeling in obese patients having prediabetes and T2DM were widely investigated, the remote effects of cardiorespiratory fitness programs among these individuals under control of cardiac biomarker measure need to be evaluated in the future. However, there is evidence regarding that the concomitant reduction in adiposity or circulating biomarkers in patients having prediabetes or T2DM after exercise training program for 3-month period was associated with serious benefits in cardiometabolic health including beneficial effects on plasma lipids and fasting glucose (159-161). The STABILITY (Stabilization of Atherosclerotic Plaque by Initiation of Darapladib Therapy) study has been revealed strong association between decrease in all-cause/CV mortality and greater physical activity in the subgroup of patients at higher risk estimated by the ABC-CHD (Age, Biomarkers, Clinical-Coronary Heart Disease) risk score (162). Yet, life style modification and Mediterranean diet was associated with lower mortality in patients with CV disease, but not those who had T2DM without established CAD (162). In this context, circulating cardiac biomarkers could individualize non-pharmacological approach in those with the highest mortality risk. Probably, other biomarkers reflecting the endothelial function and inflammation will be useful for prediction of the risk of future CV events in diabetics (163,164). Large multicentre clinical trials are necessary to confirm these assumptions.
---
Future perspectives
The discovery of new biomarkers appears to be promising, while a lack of longitudinal investigations with aim to compare face-to-face conventional and new biomarkers make use speculative approaches to explanation of advantages and challenging. Perhaps, multiple markers models will be more acceptable to stratify at CV risk T2DM patients. In addition, there is a need to evaluate whether conventional and novel biomarkers could be powerful prognostic predictor for clinical outcomes in T2DM patients after MACEs. Large clinical trials are required to be planned and executed in the future to clearly elucidate what biomarker models are most optimal for this matter.
---
The limitations and quality of the articles reviewed
The limitations of the narrative review were a search of the article written English and a lack of blinded evaluation of the quality of them.
---
Conclusions
There is a wide range of circulating cardiac biomarkers that were widely investigated and incorporated into diagnostic and predictive models for patients at higher risk of CV disease and events. Conventional approach is based on the use of NPs and cardiac troponins in routine clinical practice, whereas there is no evidence that these biomarkers have equal diagnostic and predictive values for patients with prediabetes and established T2DM.
---
Acknowledgments
Funding: None.
---
Footnote
Reporting Checklist: The authors have completed the Narrative Review reporting checklist. Available at http://dx.doi.org/10.21037/amj-20-147
Peer Review File: Available at http://dx.doi.org/10.21037/amj-20-147
Conflicts of Interest: Both authors have completed the ICMJE uniform disclosure form (available at http://dx.doi.org/10.21037/amj-20-147). The authors have no conflicts of interest to declare.
Ethical Statement: The authors are accountable for all aspects of the work in ensuring that questions related to the accuracy or integrity of any part of the work are appropriately investigated and resolved.
Open Access Statement: This is an Open Access article distributed in accordance with the Creative Commons Attribution-NonCommercial-NoDerivs 4.0 International License (CC BY-NC-ND 4.0), which permits the non-commercial replication and distribution of the article with the strict proviso that no changes or edits are made and the original work is properly cited (including links to both the formal publication through the relevant DOI and the license). See: https://creativecommons.org/licenses/by-nc-nd/4.0/.
---
References
doi: 10.21037/amj-20-147
Cite this article as: Berezin AE, Berezin AA. Challenging and opportunities in clinical implementation of circulating cardiac biomarkers in diabetes mellitus: the narrative review. AME Med J 2021;6:18.