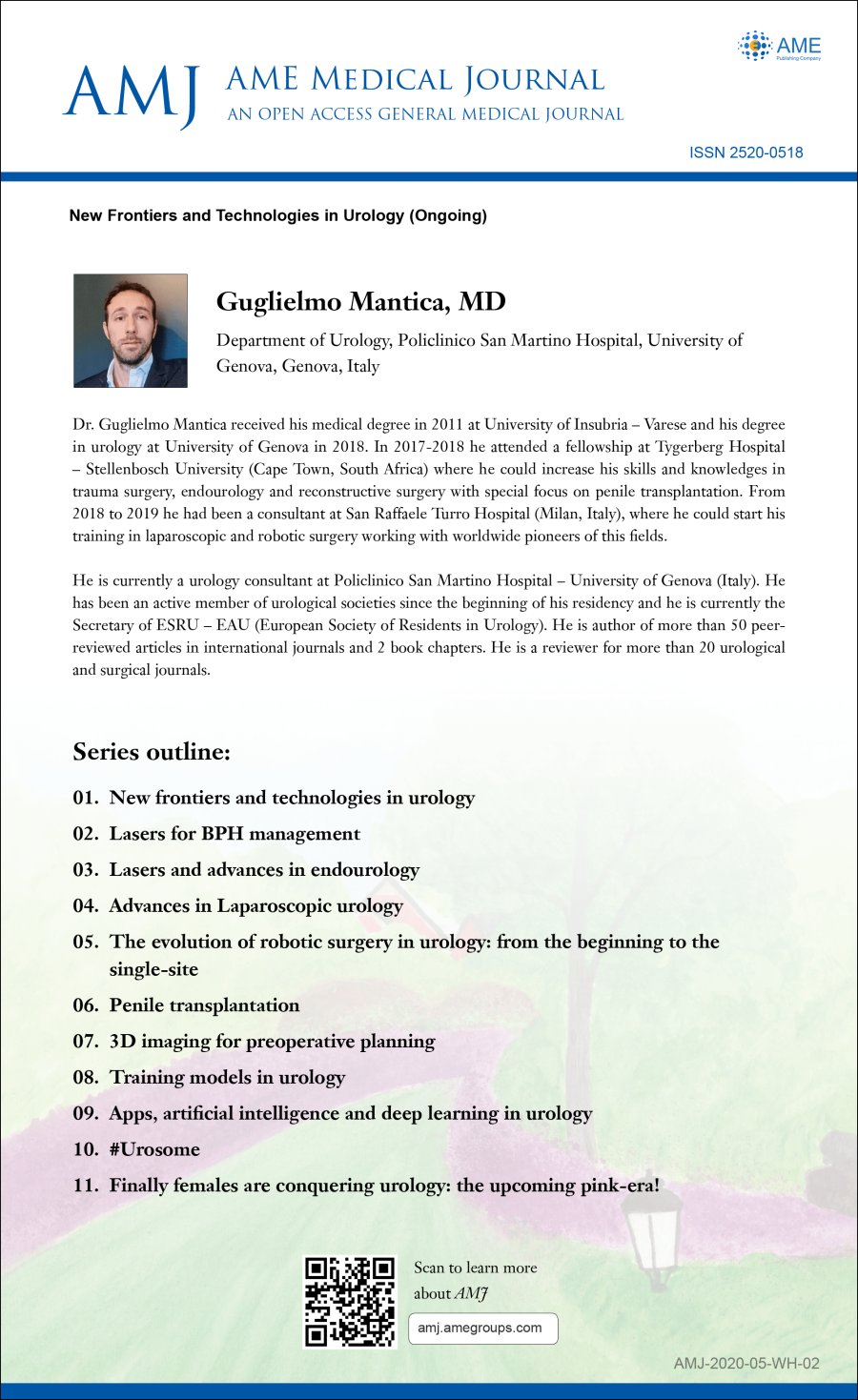 This Series "New Frontiers and Technologies in Urology" is edited by Dr. Guglielmo Mantica from University of Genova, Italy.
Dr. Guglielmo Mantica received his medical degree in 2011 at University of Insubria – Varese and his degree in urology at University of Genova in 2018. In 2017-2018 he attended a fellowship at Tygerberg Hospital – Stellenbosch University (Cape Town, South Africa) where he could increase his skills and knowledges in trauma surgery, endourology and reconstructive surgery with special focus on penile transplantation. From 2018 to 2019 he had been a consultant at San Raffaele Turro Hospital (Milan, Italy), where he could start his training in laparoscopic and robotic surgery working with worldwide pioneers of this fields.
He is currently a urology consultant at Policlinico San Martino Hospital – University of Genova (Italy). He has been an active member of urological societies since the beginning of his residency and he is currently the Secretary of ESRU – EAU (European Society of Residents in Urology). He is author of more than 50 peer-reviewed articles in international journals and 2 book chapters. He is a reviewer for more than 20 urological and surgical journals.
Series outline:
New frontiers and technologies in urology
Lasers for BPH management
Lasers and advances in endourology
Advances in Laparoscopic urology
The evolution of robotic surgery in urology: from the beginning to the single-site
Penile transplantation
3D imaging for preoperative planning
Training models in urology
Apps, artificial intelligence and deep learning in urology
#Urosome
Finally females are conquering urology: the upcoming pink-era!
Disclosure:
The series "New Frontiers and Technologies in Urology" was commissioned by the editorial office, AME Medical Journal without any sponsorship or funding. Guglielmo Mantica is serving as the unpaid Guest Editors for the series.