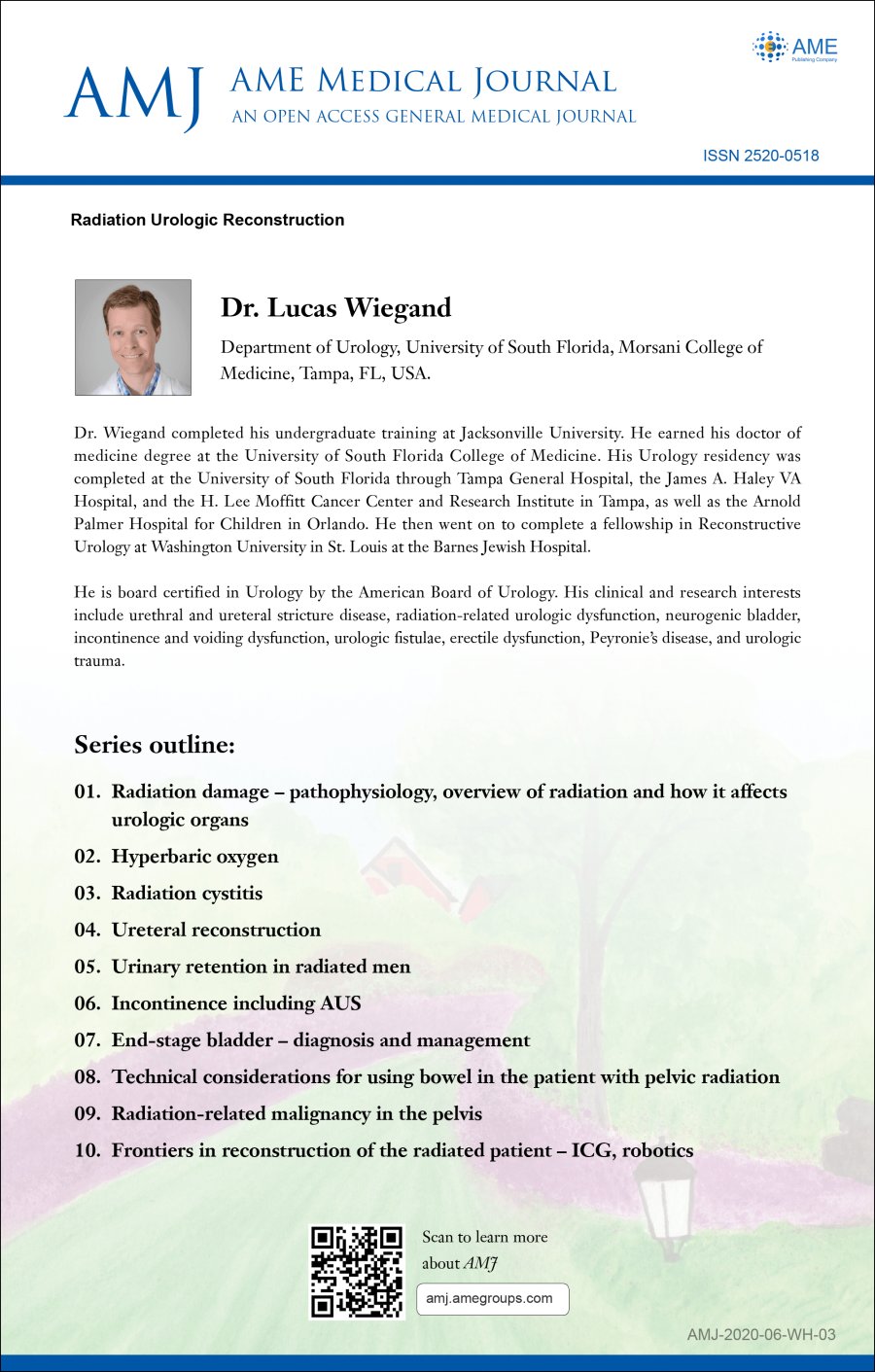 This Series on Radiation Urologic Reconstruction is edited by Dr. Lucas Wiegand from Department of Urology, University of South Florida, Morsani College of Medicine, Tampa, FL, USA.
Dr. Wiegand completed his undergraduate training at Jacksonville University. He earned his doctor of medicine degree at the University of South Florida College of Medicine. His Urology residency was completed at the University of South Florida through Tampa General Hospital, the James A. Haley VA Hospital, and the H. Lee Moffitt Cancer Center and Research Institute in Tampa, as well as the Arnold Palmer Hospital for Children in Orlando. He then went on to complete a fellowship in Reconstructive Urology at Washington University in St. Louis at the Barnes Jewish Hospital.
He is board certified in Urology by the American Board of Urology. His clinical and research interests include urethral and ureteral stricture disease, radiation-related urologic dysfunction, neurogenic bladder, incontinence and voiding dysfunction, urologic fistulae, erectile dysfunction, Peyronie's disease, and urologic trauma.
Series outline:
Radiation damage – pathophysiology, overview of radiation and how it affects urologic organs
Hyperbaric oxygen
Radiation cystitis
Ureteral reconstruction
Urinary retention in radiated men
Incontinence including AUS
End-stage bladder – diagnosis and management
Technical considerations for using bowel in the patient with pelvic radiation
Radiation-related malignancy in the pelvis
Frontiers in reconstruction of the radiated patient – ICG, robotics
Disclosure:
The series "Radiation Urologic Reconstruction" was commissioned by the editorial office, AME Medical Journal without any sponsorship or funding. Lucas Wiegand is serving as the unpaid Guest Editors for the series.